Beach Chairs: Seven Things to Know Before You Buy
The warmth of the sun, the sound of the surf hitting the shore, and you catching some zzz's. If you're lying on a blanket, a day at the beach means a day of fun and relaxation and potentially a lot of sand. Today, beach chairs are so functional they are really handy to have around not only at the beach, but poolside, game side, or in your backyard. Before you commit to one, familiarize yourself with the available options, so the one you select will most suit your needs.
Fact #1: Beach chair frames are constructed of different materials
When considering beach chair construction, basically three options are available to choose from: steel, aluminum, and wood. Steel is the sturdiest, aluminum is lighter in weight making it easier to carry, and wood can be heavier to carry, but offers an upscale look. Powder coated paint on chairs helps with scratch and rust resistance. Aluminum chairs protect more against rust than powder coated steel chairs do.
Fact #2: You have several seat fabric options
Seat fabrication can range in denier (a measurement of fabric thickness and weight) from canvas, cotton, nylon or polyester. Aim for denier strength between 420D-600D for durability. Cotton and canvas deniers are softer for comfort. Polyester and nylon deniers offer more weather-resistance. Padded fabric will provide a cushioning effect that may be more comfortable. Otherwise material selection is more of a personal taste and comfort decision.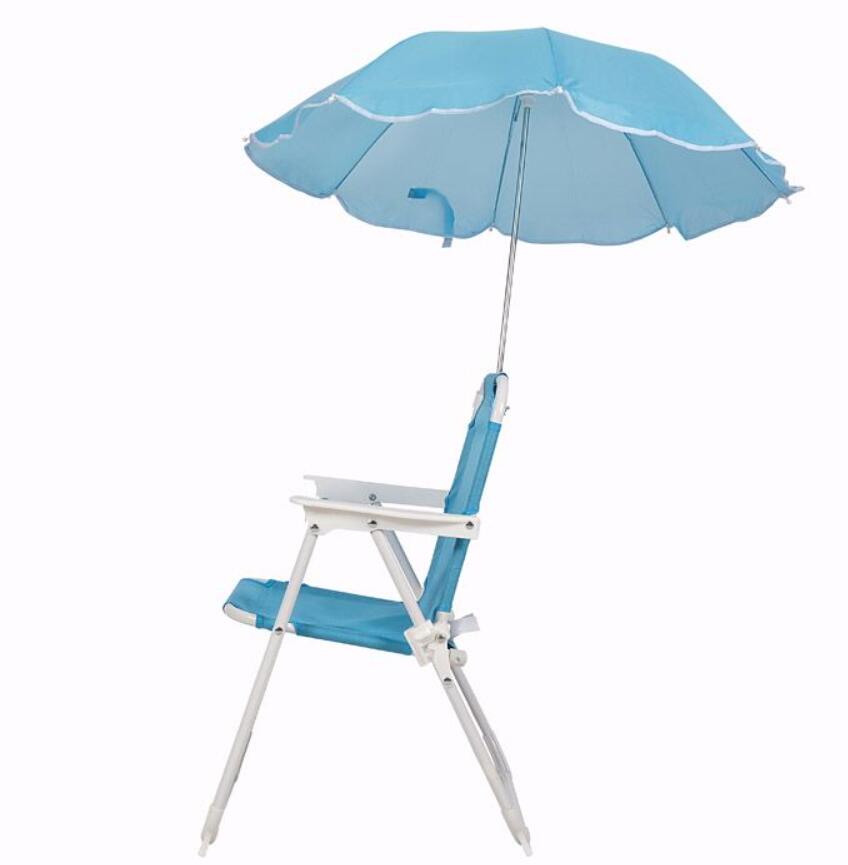 Fact #3: Weight support varies
Weight support can generally range from up to 225-400 lbs. for adults and up to 75-100 lbs. for children. Always check the manufacturer's instructions for weight limits before use.
Fact #4: Positions Matter
Beach chairs can simply unfold into a sitting upright position or provide up to multiple reclining variations including completely lying flat on your back or stomach.
Fact #5: What other key features should you consider?
There are two other major factors to consider: portability and arm rest options.
Portability: Some beach chairs fold in half vertically or horizontally, while others fold into three sections. If you plan on transporting the chair, you will want to select one that can be carried easily. Look for chairs with an attachable sling shoulder carry strap, a separate carry bag with strap, or backpack style carry straps.
Arm Rests: Not only is comfort a factor, but you want arm rests that won't get hot in the sun. Some options are: wood arms for support and sturdiness, fabric covered wide arms or padded arm rests providing extra comfort.
Fact #6: Beach chairs come in lots of styles
· Sand chair – is your basic folding beach chair and is usually the least expensive. They simply let you sit low on the sand.
· Highboy beach chair – similar to a sand chair but sits 16-18 inches above the sand, and as its name implies, it has a higher back.
· Butterfly or camp chair - a one position chair that folds compactly vertically for easy carrying and storage.
· Lounge chair – its main function, to let you stretch out your legs.
· Zero Gravity chair – the ultimate relaxation chair allows you to easily lean back and prop your feet up in multiple positions.
Fact #7: Accessories
Several beach chairs offer convenient accessories. Some options are:
· Integrated cup holder(s)
· Adjustable pillow
· Zippered storage pocket(s)
· Canopy or attachable umbrella for some shading
· Attachable side tray
· Footrest
If you want to learn more.
If you are interested in sending in a Guest Blogger Submission,welcome to write for us!