Advantages of MDF in the manufacture of acoustic panels
Acoustic MDF acoustic panels, commonly known as wood acoustic panels, consist of an MDF base that is subsequently modified through drilling and/or grooving, to which a finish and a black sound-absorbent veil are added.
MDF or Medium Density Fibreboard offers a number of advantages for the manufacture of acoustic tiles.
It has a higher density than traditional chipboard or plywood because it is made from wood fibres and synthetic resins that are compressed with pressure and heated.
As they consist of very small wood fibres, almost like dust, MDF panels can be cut, carved or milled as if they were solid wood. They do not produce splinters and do not require any special tools.
The surface is very suitable for painting and varnishing.
MDF is an excellent substrate for wood veneers due to its uniform surface and its outstanding performance with glues and adhesives.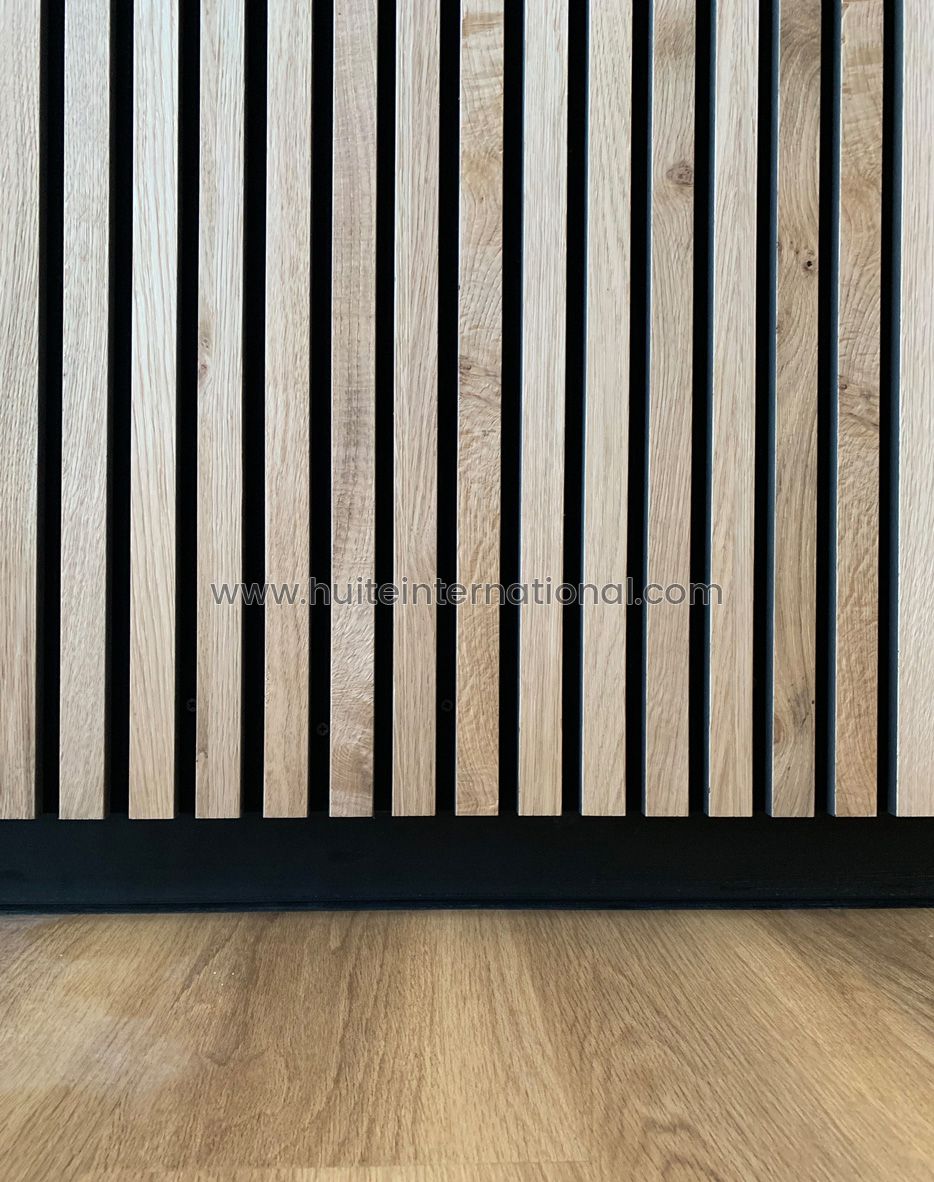 The Spigoacustic and Spigotec acoustic panel catalogues include both standard MDF backing boards and special MDF backing boards with fire retardant treatment to improve their fire performance or with water-repellent treatment to increase their resistance to humidity.
As for the available finishes, you can choose melamine (white, stainless steel, maple, beech, oak, pear, cherry or wenge), natural varnished wood (maple, beech, oak or cherry), high density veneering or lacquer in any colour in the RAL, PANTONE and NCS charts.
Its acoustic performance depends on the percentage and type of perforation chosen for each project, with a choice of square, slotted/oblong or circular perforations, as well as micro-perforations.
Linyi Huite international trade company is founded in 2015 year, now we have 2 own factories and more than 15 cooperated factories, Our main products including: Wall Panel Acoustic, PVC wall panel and ceiling, WPC decking, UV form board, 3D wall sticker, wool rock acoustic panel and ceiling. We also provide OEM services for purchasers from all over the world.welcome contact us.
If you are interested in sending in a Guest Blogger Submission,welcome to write for us!